The Environments for Aging Expo & Conference offers the latest strategies and ideas for creating functional and attractive living environments that meet the needs of our aging population. During this comprehensive three-day learning experience, attendees will network with peers while learning the latest innovations and best practices in senior friendly design for long-term and residential care settings.
[one_half spacing="yes" last="no" center_content="no" hide_on_mobile="no" background_color="" background_image="" background_repeat="no-repeat" background_position="left top" link="" hover_type="none" border_position="all" border_size="0px" border_color="" border_style="solid" padding="" margin_top="" margin_bottom="" animation_type="0″ animation_direction="down" animation_speed="0.1″ animation_offset="" class="" id=""]
Highlights of the EFA Conference
Outdoor Environments in CCRC Design
Best practices in the design of long-term and residential care settings
Innovation and development in design for aging lifestyles
Networking with like-minded individuals
[/one_half]
[one_half spacing="yes" last="yes" center_content="no" hide_on_mobile="no" background_color="" background_image="" background_repeat="no-repeat" background_position="left top" link="" hover_type="none" border_position="all" border_size="0px" border_color="" border_style="solid" padding="" margin_top="" margin_bottom="" animation_type="0″ animation_direction="down" animation_speed="0.1″ animation_offset="" class="" id=""]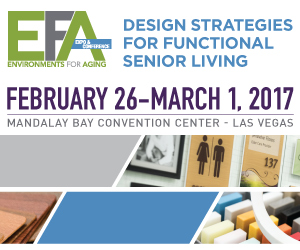 [/one_half]
Explore Senior Living Design at Conference & Workshops
Attendees will share common goals and innovations as well as building, architecture, and best practices. Don't miss the opportunity to gain inspiration through a gathering of like-minded, forward-thinking individuals instrumental in the creation of future living environments for the aging. Best practices for products and materials, along with current trends in colors, mood setting, and use of space all contribute to the various aspects of senior friendly design.
Community tours offer insights into innovations of senior living designs. These walk-throughs provide real-life examples of incorporating best practice techniques, new enrichment opportunities, and memory & dementia care focused design.
Workshops provide an in-depth look at processes and procedures utilized across continuum of care, from CCRC design where some residents may still be independent, to memory and dementia care design.
NEW for 2017 – Co-locating with Medtrade Spring
In 2017, Environments for Aging will be co-locating with Medtrade Spring. Medtrade Spring brings together thousands of home medical equipment providers, home health care professionals, and leading manufacturers of home health care products and technology. Medtrade shows continue to be the largest forums for HME products and services and educational sessions on current issues, and as an EFA attendee you will have access to the Medtrade Spring expo floor during show hours.
As the overall continuum of care evolves, bringing these two top tier events together allows you to network with a wide audience of providers, clinical professions, and designers all focused on developing solutions in the field of personal healthcare.
Who Should Attend?
Architects
Owners
Developers
Facilities managers
Design professionals
Product manufacturers
Government officials
Gerontologists & other aging experts
This trade show has approximately 900 attendees and 95 exhibitors. The event is hosted in the convention center of the beautiful Mandalay Bay hotel.
For those looking for cool things to do while in Las Vegas, visit their visitor center website.